SaintSaver 4.0

Church Database Management

Financial Accounting

Software System
for Macs

$35 for Eternal Life Activation
of the Free Download
with a Password

For the Password,
Send a $35 check to
Gary Ritner
7957 77th St. Ct. S.
Cottage Grove, MN 55016

"Called to be

fishers of people."

This program is now ten years old since the need for a revision and it works better than ever with faster Macs!!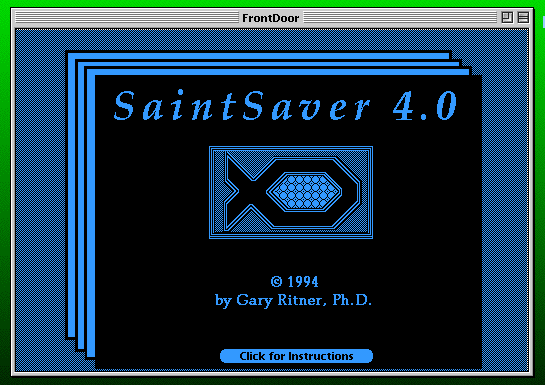 SaintSaver 4.0 is a series of Hypercard stacks for doing a vast array of church record keeping tasks with minimum repetition and maximum power.
There are over 100 kinds of financial reports and database operations that can be performed.
It works on Macs with 2 MB RAM and with Hypercard 2.0 or higher. Even if you do not have Hypercard, SaintSaver will work as a standalone application with an optional home stack that is included on the free demo version. SaintSaver works even better today than the day it was first created, because Macs have become faster and faster. That means the program works faster than ever. Yet, it still works on the oldest Mac you have.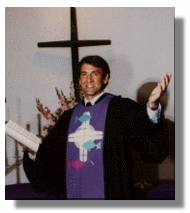 "I designed SaintSaver 4.0 because I felt a calling to provide powerful software at a minimal price for churches in a time of stretched financial resources.
Churches from all over the country have requested free demos. Many have decided that it was what they were looking for in church software for the Mac.
The price is the inviting factor upfront but the computing power is what really makes SaintSaver a great idea for churches!
Many have told me that it makes a big positive difference that this was designed by a minister who knows what churches need to do with their computers."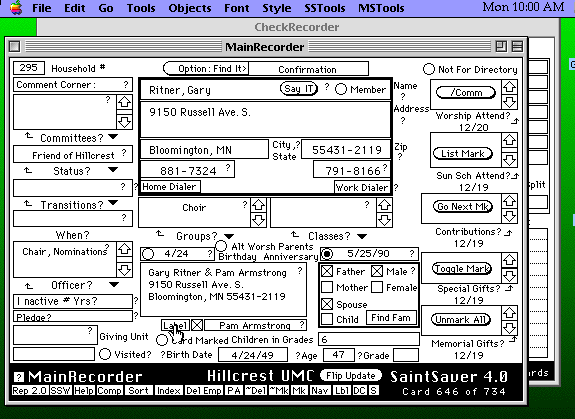 Among the operations that SaintSaver performs are the following:
Provides a relational database system designed for churches

Provides an integrated accounting system designed for churches

Counts data for statistical reports on all church activities

Tracks contributions, attendance, members, mileage, visitors, etc.

Compiles lists: grade, gender, age, class, committee, etc.

Counts zip codes for bulk mailing preparation

Exports text files of information stored in SaintSaver 4.0

Imports text files of data into SaintSaver 4.0

Prints multiple customized return labels

Prints mailing labels for groups, committees, etc.

Dials individuals by modem or speaker from the database

Provides extensive integrated onscreen help


| | |
| --- | --- |
| Don't let the thousands of little details push you around. Take big bytes of data and turn them into vital, organized information and free up your energy for the work of caring in mission and ministry with people!!! | |