SaintSaver 4.0

Church Database Management

Financial Accounting

Software System
for Macs

$35 for Eternal Life Activation
of the Free Download
with a Password

For the Password,
Send a $35 check to
Gary Ritner
7957 77th St. Ct. S.
Cottage Grove, MN 55016

"Called to be

fishers of people."

This program is now ten years old since the need for a revision and it works better than ever with faster Macs!!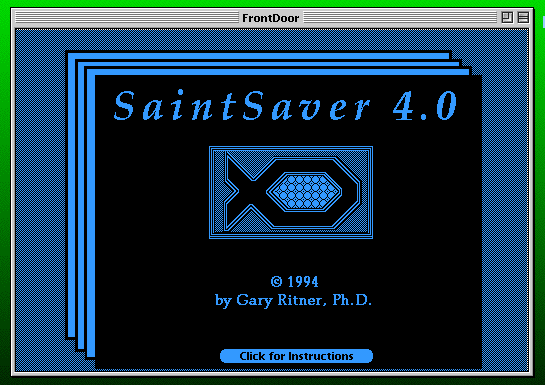 SaintSaver 4.0 is a series of Hypercard stacks for doing a vast array of church record keeping tasks with minimum repetition and maximum power.
There are over 100 kinds of financial reports and database operations that can be performed.
It works on Macs with 2 MB RAM and with Hypercard 2.0 or higher. Even if you do not have Hypercard, SaintSaver will work as a standalone application with an optional home stack that is included on the free demo version. SaintSaver works even better today than the day it was first created, because Macs have become faster and faster. That means the program works faster than ever. Yet, it still works on the oldest Mac you have.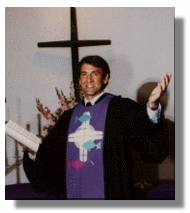 "I designed SaintSaver 4.0 because I felt a calling to provide powerful software at a minimal price for churches in a time of stretched financial resources.
Churches from all over the country have requested free demos. Many have decided that it was what they were looking for in church software for the Mac.
The price is the inviting factor upfront but the computing power is what really makes SaintSaver a great idea for churches!
Many have told me that it makes a big positive difference that this was designed by a minister who knows what churches need to do with their computers."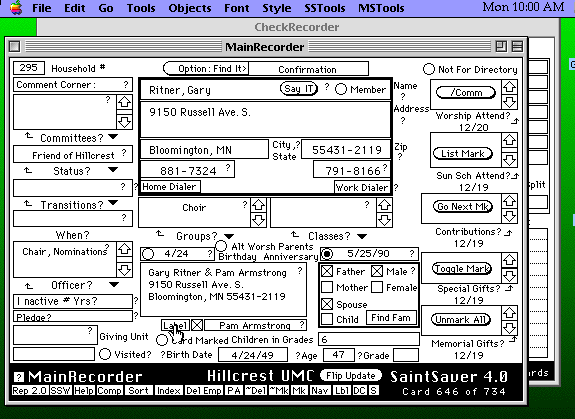 Among the operations that SaintSaver performs are the following:
Provides a relational database system designed for churches

Provides an integrated accounting system designed for churches

Counts data for statistical reports on all church activities

Tracks contributions, attendance, members, mileage, visitors, etc.

Compiles lists: grade, gender, age, class, committee, etc.

Counts zip codes for bulk mailing preparation

Exports text files of information stored in SaintSaver 4.0

Imports text files of data into SaintSaver 4.0

Prints multiple customized return labels

Prints mailing labels for groups, committees, etc.

Dials individuals by modem or speaker from the database

Provides extensive integrated onscreen help


| | |
| --- | --- |
| Don't let the thousands of little details push you around. Take big bytes of data and turn them into vital, organized information and free up your energy for the work of caring in mission and ministry with people!!! | |
Pastor's Pointers is provided by Rev. Gary Ritner, Ph.D. To request that a link be added to any Pastor's Pointers Page, CLICK HERE to use a very simple entry form
To place a banner on your site for a link to Pastor's Pointers Web Pages, copy the image at the right with a right click and put it on your web server. Then link to ... www.garyritner.org/ppcss.html ...
Tell me about your experience with Pastor's Pointers, please. To use a simple entry form, CLICK HERE. To see what others have said, CLICK HERE.
Want to advertise on my web sites? There have tons of traffic. You can place a banner for $50 a year if your services are relevant to what my web sites seek to communicate. Basically, religion and wedding-related topics welcome. Email me at gary@garyritner.org and let's talk.
Here are some popular books in the area of religion from Amazon - often great prices, especially on used copies.
Wedding Officiating Referral in USA - Find an Officiant Easy and Fast and Free
Wedding Officiating in the Twin Cities, Minnesota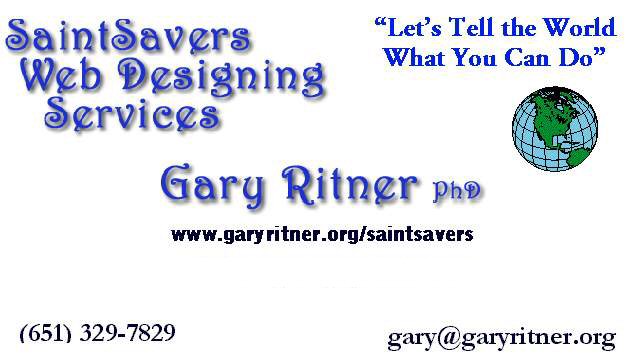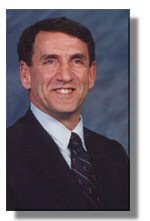 SaintSavers Web Designing Services are provided by Gary Ritner, Pastor, experienced web site designer, manager and graphic artist; and Pam Armstrong, graphic artist and computer consultant.
Let us whip up something creative and wonderful for you. Our web designing services include audio and video streaming, ecommerce construction and maintenance, Java scripting, cgi scripting or PERL, PHP, MYSQL, a database-driven format, Mouse rollovers, accessibility design, animation and graphics produced in many of the latest software programs (including Flash, Dreamweaver, Fireworks, PaintShop Pro 8.0, Animation Shop, Photoshop 5.5, FrontPage) and much more or just what you need.
Want to have your church web site address as www.whatagreatchurch.org/yourchurch and pay only $150 a year? See basics below or click on this banner for details.
Enable Your Church Staff or Volunteers
to Create and Update
Your Web Pages with Simple Word Processing Skills
No Need for HTML Skills
'Super Economy' Package - $150 a year
SaintSavers manages many church web sites, including these 'Super Economy' sites
Several others are in the early stages of development and will be added soon.
Your Church Can have a Site similar to these sites
I provide all technical work and the hosting on www.whatagreatchurch.org/yourchurch - no other fees for you. To Have Your Own Domain Name (without whatagreatchurch.org first) - Add $50 a year
(YOU can make detail changes without html knowledge)
You also receive up to two email boxes like this format: (staffpersonand/or.yourchurch)@whatagreatchurch.org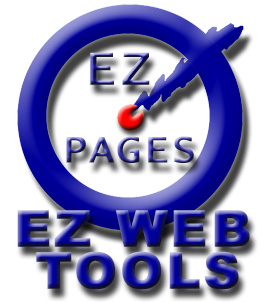 Sample some other Web Sites Managed by SaintSavers Web Designing Services:
SaintSavers Web Services


provided by SaintSavers Inc.
"Let's Tell the World What You Can Do!"
Contact info at www.garyritner.org/GaryResume.html
E-Mail to gary@garyritner.org