For Catholics Planning a Wedding
My grandparents grew up in the Roman Catholic Church. They experienced a great heartache when their youngest son died and the priest would not perform the funeral because they could not say with certainty that their son had last rites. They felt that they had given their lives to the church and were deeply disappointed in this policy by that priest. This experience convinced me that there were many Catholics who needed to know that God would bless their marriage even if church rules did not permit such a blessing by a particular priest in a Catholic Church.

It has been part of my calling to serve Catholics with open arms that communicate the grace and blessing of God in their marriage. I have taught at St. John's University with 18 priests in my class and have studied with Catholic scholars at Woodstock Seminary. At some of the many weddings that I have performed for Catholics, I have been called "Father Gary" and it brings a smile to my face to hear it.

Let's talk!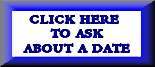 Click on the button above to fill out a simple form
to ask if I am available to officiate at your wedding
on the date that you have chosen.

or, CLICK HERE to email me regarding anything else - gary@garyritner.org