Click a topic below to go there on this web page
SUMMARY OF LINKS AND STEPS
TO SET UP YOUR WEDDING OFFICIATING SERVICES WITH GARY RITNER

(Click on Links Below to See forms, etc.)
Send a $150 check (or use PayPal - see below) made out to 'Gary Ritner' to reserve your date and time and send it to:



Gary Ritner
7957 77th St. Ct. S.
Cottage Grove, MN 55016

Locate Caribou Coffee, 7145 E Point Douglas Road South, Cottage Grove, MN - (651) 768-0794 if you want to Meet Face to Face first.

Plan Your Service with my Service Planning Tool. (Login with 'help' as the user and 'me' as the password.)
MEETING FACE TO FACE - While you may want to meet with a few officiants before deciding, I prefer to meet after you have decided on using my services and have sent a deposit. We can accomplish more by meeting then.

On the other hand, if you feel strongly about meeting face to face first; I am willing to do that.

We can meet at Caribou Coffee, 7145 E Point Douglas Road South, Cottage Grove, MN (651) 768-0794 (10 miles southeast of downtown St. Paul)

REFERENCES? - To see what others have thought about my services, CLICK HERE.

Here is a sample: "At the reception, several people asked us about you and your background. They were very impressed with you! I directed a few to your awesome resume' - CLICK HERE - so they could see just how impressive your background is. With all that you have achieved, it is most impressive that you find such joy in celebrating with couples in officiating at their wedding! Thanks for all that you did to make ours a great moment to cherish!" B and K
FEES
Fee for Officiating at Your Wedding Service - $400
Includes:

My services for a rehearsal on a separate day or a rehearsal the same day of the wedding 90 minutes before
Face-to-face sessions as needed
Unlimited follow-up arrangements by phone or email until the ceremony is just the way you want it.
Unlimited submissions from the SaintSavers Wedding Planning Tool
A Word file of your service that you can print out and save with your wedding scrapbook/photos
Signing and sending of your wedding license
Cell-phone access to me at any time

$0.50 per mile for mileage if the wedding is more than 20 miles from where I live. Use the address 7957 77th St. Ct. S., Cottage Grove, MN 55016, to figure the mileage from my home office to your wedding location on Mapquest. I allow 20 miles each way, so deduct 20 miles each way. If the rehearsal is on a separate day so that I have to drive the distance twice, then the mileage will be calculated for two round trips.
Article - Background Information about fees: The current standard fee in the Twin Cities seems to be around $400 for clergy who officiate at weddings for persons who are not contributing members of their local churches. Some receive less and many receive more to officiate. There are many expenses for officiants that must be paid out of such fees: costs for a web site, advertising, dry cleaning, travel and office supplies and equipment. Weddings used to be performed (and still are) for nearly no fee by clergy serving churches because the church (including the couple) financially supported the clergy and the clergy used weddings as a way to recruit members who would support the church. The movement toward independent clergy who perform services without such strings attached has meant that some of the expenses that used to be carried by the local church are now part of the fee for officiating at the wedding by independent officiants like me. Couples who contribute to local churches regularly usually have their weddings performed there, but the average amount they contribute for clergy services (and specifically for their wedding) is much higher than $400.
DEPOSIT
A $150 non-refundable "earnest fee" (also known as a deposit) should be paid when the wedding date is confirmed by the couple with me. I will turn down other weddings for that date if we confirm the date with this fee. Otherwise, I may accept another wedding for that date. I have learned that the fee helps to clarify the situation in ways that a verbal agreement does not. This fee will be applied to the total costs and is not in addition to them. I will send a receipt for your deposit by email. Request a receipt by postal mail also, if you wish.

Send a $150 check (or use PayPal - see below) made out to 'Gary Ritner' to reserve your date and send it to:

Gary Ritner
7957 77th St. Ct. S.
Cottage Grove, MN 55016

The remaining balance of the fees should be paid at the beginning of the rehearsal (if there is a rehearsal on a day other than the wedding) or when I arrive before the service. This helps all parties to avoid an awkward moment later. Many couples prefer to send me a check a couple weeks in advance to get it out of the way so they can have less to be concerned about on the day of the wedding or rehearsal.

When I receive your deposit, you will receive an email like this - CLICK HERE for a sample.
PayPal Option
Instead of sending a check, you can send your deposit or wedding officiating service payment to me by PayPal. If you have used PayPal, you know that it is a great system for moving funds from one person to another with good documentation and security. If you have not used PayPal, but would like to do so; CLICK HERE to go to the PayPal web site and sign up. You use your bank account or credit card to transfer money into and out of your PayPal account.
Send your deposit to this email address for my Pay Pal account - gary@garyritner.org. Make the payment for $155 to cover the processing fees.
Wedding Dates - Tentative Inquiries* and Confirmed Reservations+
+ Those dates marked by + have been secured by a deposit. These are confirmed reservations. +
* Those dates marked by an asterisk* are listed as tentative as a result of a conversation and inquiry about a date and have not yet been confirmed by deposits* - these dates are available until a deposit is received*.
Just the Bride's or just the Groom's name is listed so that you can recognize your inquiry* or reservation+ and its status as confirmed by deposit+ - or NOT confirmed by a deposit*.
If you see your information here and you have made other plans, please let me know asap.
To be sure that your tentative date is not taken by someone else, I encourage you to send a deposit as soon as possible.
You can check back to see if your tentative date has been taken by someone else. If it has been taken, ask me to refer you to someone and I will find someone for you. However, it might not be easy to find someone else on short notice and I cannot guarantee that I will be able to find someone for a wedding sooner than two months from the date you ask for my help.
In most cases, I will arrive at least 30 minutes before your wedding begins so that we can work with the wedding license for a few moments and so that you can rest easy that I am there and we can discuss any last-minute changes or details.
The next few paragraphs may sound legalistic, but don't let that throw you - I am an easygoing and fun guy!
A few couples misunderstood and expected that an hour late would be no problem, so this part became important to clarify somewhere. Your wedding should start at approximately the time for which it has been scheduled. My services are provided for up to one hour and I may have to leave after that to officiate at another wedding. All of the wedding services in which I have been involved have been less than 30 minutes and most are under twenty minutes, so that still gives some flexibility on time. However, as a courtesy to guests who are waiting, the service should start at approximately the scheduled time.
When the deposit is received, the date and time of the wedding are set in stone unless some later agreement is reached between us to change the date and time. Dates and times as posted on this web site are the dates and times that couples have agreed upon with me for the wedding and rehearsal. Any changes in these dates and times without mutual agreement between me and the couple may nullify our agreement. If my services cannot be provided due to a change in the date or time by the couple, then the deposit will be forfeited and I will not be obligated to officiate at the wedding. While I will attempt to be flexible on the rehearsal date and time for our mutual benefit, the wedding date and time must be fixed at the time of the deposit so that I am free to schedule other weddings around it.
The rehearsal date and time may be decided after the wedding date is set, but if the rehearsal date and time is left undetermined at the time of the agreement on a wedding date and time, then you will have to be flexible about the rehearsal date or I may not be able to be at the rehearsal because of previous commitments.
Important Note:
If you see a confirmed reservation already on your wedding date, talk to me or email me anyway. I also have an arrangement with some other officiants and I can refer you to them. Also, I have done two weddings on some dates when the times were not too close together or the weddings too far apart. So, be sure to ask me and let me know your time. I guarantee that I can help you to find an officiant of a similar theology/philosophy as mine if it is at least two months before your wedding date.
If you see an unconfirmed request on your date, feel free to ask me for that date and send a deposit. Some people ask for a date and never come back to claim their date or do not send a deposit to confirm. I urge couples to make the commitment and send the deposit to avoid losing the date.
I encourage you to secure your date with a deposit as soon as possible, even though it seems like a long way off. The wedding scheduling season is upon us and dates go fast. I have some pending requests that are not on the calendar, so I encourage you make your plans soon.
I can help you by officiating in Minneapolis, St.Paul, or anywhere in the whole Twin Cities area- Saint Paul, Mpls, Anoka, Apple Valley, Arden Hills, Blaine, Bloomington, Brooklyn Center, Brooklyn Park, Burnsville, Champlin, Chanhassen, Columbia Heights, Coon Rapids, Cottage Grove, Crystal, Eagan, Eden Prairie, Edina, Excelsior, Falcon Heights, Farmington, Forest Lake, Fridley, Golden Valley, Hastings, Hopkins, Inver Grove Heights, Lake Elmo, Lakeville, Lino Lakes, Little Canada, Long Lake, Mahtomedi, Maple Grove, Maplewood, Mendota Heights, Minneapolis, Minnetonka, Mounds View, New Hope, Newport, North St. Paul, Oakdale, Plymouth, Prior Lake, Richfield, Robbinsdale, Rosemount, Roseville, St. Anthony, St. Louis Park, St. Paul, Savage, Shakopee, Shoreview, South St. Paul, Spring Lake Park, Stillwater, Vadnais Heights, West St. Paul, White Bear Lake, and Woodbury - Minnesota. Or, I can help you to find an officiant.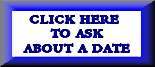 Click on the button above to fill out a simple form
to ask if I am available to officiate at your wedding
on the date that you have chosen.

or, CLICK HERE to email me at gary@garyritner.org regarding these wedding dates
I cannot guarantee that these dates will be open by the time you contact me or send me a deposit. I update the list here with every action that takes place, but deposits may be received the same day. In this case, the earliest postmark will receive the reservation and the other check will be returned. However, I will help you to find another officiant.
Be sure that we have agreed upon the rehearsal time as early as possible since I often do two weddings on the same day and the rehearsal times need to be coordinated - especially if both are the night before. If you want me to be at the rehearsal, schedule that with me as soon as possible. If I am not available at the time you had hoped for, you might consider having a rehearsal two days before the wedding if possible and necessary for my schedule.
If you decide not to use my services after we have discussed a date, please inform me as soon as possible so that I can make other plans as well. On a few occasions, I have contacted couples some time after our conversation and they had made other plans for their wedding without informing me. They assumed that if they did not send a deposit, then I would know that they were not planning to use my services on that date. Some people have just delayed sending their deposit, so this assumption is not always true. Therefore, I ask that you inform me if you have made a decision not to use my services so that I can make other plans as well.
Couples worry about worst-case scenarious that never happen. There is always a solution that works, even if it is not ideal. Here is one example scenario and a solution that works. So, don't even worry about this one. On the way to the wedding an accident claims the life of your wedding officiant or sends him to the hospital. What would you do then? Don't cancel the wedding. You have a copy of the service. Have someone stand in for the wedding officiant and read the service. Then, appear before the wedding officiant or another officiant at your earliest convenience for a private ceremony to make it legal.
Referrals: I frequently schedule weddings with couples after we have been introduced through referrals from other clergy, churches, caterers, hotels, etc. I have been sharing with those who make a successful referral. For a referral that results in a wedding scheduled by a deposit, I will share $50 with the person providing the referral. Perhaps you are clergy and you have been asked to do a wedding, but you are already scheduled for a wedding on that date. Refer them to me and you will be compensated and the couple will be served by your finding them someone to perform their ceremony. Perhaps you have liked my services for your wedding and you would like to refer someone else to me so that I can perform their ceremony. You too can receive $50 for this referral. I have found that this incentive helps everyone concerned. More couples find a clergyperson, more churches find an alternative, and more clergy are connected with the people who need their services. I refer couples from all over the country through my Wedding Ministers web site, so feel free to visit that web site and ask me for a wedding minister referral wherever your wedding is being planned. To qualify for a referral fee, those submitting a referral must fill out this form and submit it to me to receive the $50 referral fee.
---
My Involvement in Your Reception - If you want me to say a prayer before the meal at your reception, that may be possible if your reception is soon after the wedding and not far away from the wedding site and I do not have another wedding service within a couple hours after your wedding. My busy schedule makes it very difficult to take a few hours of travel time and waiting to attend your reception and I hope you will understand if I cannot make it. If your reception begins within an hour of the wedding and is not more than ten miles from the wedding site and you want me to come to the reception, feel free to invite me or not. Feel free to ask me to say a prayer if you wish. Assume that I will not be at your reception unless you send me an invitation or you invite me and we have agreed that I can be there.
My Involvement in Your Rehearsal - I am happy to conduct your rehearsal if you wish to have one. If you are having a private, small or home wedding, you may prefer NOT to have a rehearsal. If you plan to have a rehearsal, be sure to agree with me on the time of the rehearsal as soon as possible to be sure that I can be at the rehearsal. It is not always necessary for me to be at the rehearsal. Most of what happens at the rehearsal involves the bridal party walking in and out and some related details for ushers. The couple often has clear ideas of what they want to do and can direct the bridal party in these details. I will help wherever needed and defer to anyone who wants to direct anything. If you want to have a brief rehearsal on the day of the wedding, I recommend 90 minutes before the wedding and I will be there if you wish. Just be sure to arrange with me for this time. Rehearsals are sometimes held on a day other than the night before for various reasons when the bridal party or family is not flying in the day before. If I have two weddings on the day of your wedding, then a rehearsal the night before at an earlier time, like 4 pm or a later time, like 7 or 8 pm - or another day - may make it possible for me to be at your rehearsal as well as the other rehearsal. Otherwise, rehearsals often happen around 6 pm and finish by 7 pm to allow for travel and your rehearsal dinner afterward. It is NOT customary for me to be at the rehearsal dinner and I do not expect to be invited.

Music - I have no restrictions on the use of secular music.

Photography - I have no restrictions on the behavior of the photographer. That is up to you. (Many clergy restrict the photographer from taking pictures during the service, but I do not.)

Wedding License - The license should be requested at least a month before the wedding date. Usually, there s a five-day wait for the license after applying. (Once requested the license is valid for six months). A license is required from the state where the wedding is performed. Two witnesses over age 19 are required. I am responsible for its proper signing and returning it to the county where it originated.

The wedding license is issued by a County Office and I am just the licensed officiant who signs to signify that the wedding took place. Be sure to get your wedding license from a County Office at least five days before I officiate your wedding. Be sure to bring it to the rehearsal. If you forget, bring it to the wedding. If you do not bring it by then, we will have to meet again with the license in hand for you to have a legal marriage. If this becomes necessary, there will be an additional $50 fee for my officiating this second brief ceremony.

IF THE WEDDING LICENSE IS NOT IN MY HANDS BEFORE THE START OF THE WEDDING, THIS WILL NOT BE A LEGAL WEDDING (This has happened only a couple times in my 850 weddings). IT WILL BE A NICE CEREMONY, BUT WE WILL HAVE TO DO YOUR LEGAL WEDDING AT ANOTHER TIME WHEN I HAVE THE LICENSE IN HAND BEFORE YOUR LEGAL MARRIAGE CAN TAKE PLACE.

If you need a certified copy, you can take the license to the court house and have them make a certified copy for you. This is not needed, usually, but some legal circumstances may require it. Some counties will send this certified copy to you automatically, in about three weeks. The Best Man and Maid of Honor are the usual witnesses, but others can be the witnesses. You can apply for your license from any county in Minnesota or Wisconsin. (You do not have to live in that county!) CLICK HERE for more license info. I can perform weddings in Wisconsin as well as Minnesota.
Article
"A Simple Approach To Wedding Planning"
by Dr. Gary Ritner
Some people love to plan. They jump into the process like a research project and will not feel comfortable until they have found many books to read and web sites to study. They want to know all of the things that they should do, all of the things to avoid in planning their wedding and leave nothing to chance. That is one personality style and it is valid and can be fun if that is what you enjoy.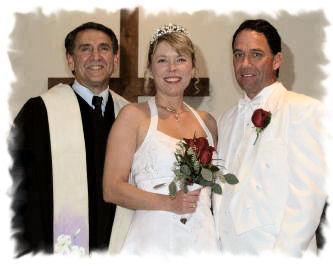 However, if you are one who likes to keep things simple, you might benefit from my suggestions about how to take the simple approach. First, don't read too much. Second, don't think too much. Third, don't worry too much.
Start from the perspective that this is your wedding and you have a right to do things your way. Others will appreciate whatever you do. Besides, you are the center of attention and all the details are just the small stuff that does not matter half as much as your smile, your looking at each other lovingly and your moment to exchange vows and rings, and kiss.
Let your officiant handle the performing of the order and details of the service that you have designed and chosen and don't worry about what happens next - just feel the moment to the fullest. Fight off anxiety and replace it with joy and a deep sense of the wonderful meaning of this moment. Keep tissues handy!
Ask for help from friends and family and trust them to be there when needed. Make a short list of things to do and check them off when they are done. Ask someone to do those things for you - for example, bring the license, give it to the officiant, give checks to the officiant, musicians, caterer; pick up and return dresses and tuxes, pin on flowers, bring a unity candle or sand, round up people for pictures and clean up afterward. In other words, avoid anxiety at the wedding by having other people in charge of the details so that you can have a good time and relax and soak in the beauty of the moment.
Location of your service and reception are the first things to decide, because venues schedule up to a year ahead. Find an officiant who will cooperate with your wishes. If you know each other well, avoid jumping into a counseling situation that could disturb the waters by challenging your decision to marry. You are together and have decided to get married for good reasons, hopefully. If you have come this far, avoid second-guessing now under pressure. However, you might consider a learning approach with a counselor that helps to improve your communication and relationship in areas that you have identified as in need of some positive help.
Wedding planning can be the most stressful when there are many minds involved. Do your parents have a lot of ideas about your wedding? Are they paying the bills? Receptions are often a party thrown by the parents and they might be given a big 'say' in this planning if this is the case. If not, stress can be reduced by making clear decisions early and asking for support from others to make them work.
Many couples have a clear pattern for decision-making about their wedding. Often, the groom is willing to support the suggestions or decisions of the bride about the service. Grooms tend to nod their heads in approval and agree with her thoughts on service details. On the other hand, bigger financial decisions tend to be a group decision based on what each feels about the wedding budget. Compromise is common. Both have to live with the consequences of financial decisions. When both are involved in and agree on the final decision, it sets a good pattern for making big decisions and makes for a happier honeymoon and life after.
To keep it simple and avoid stress, approach the wedding as a party at which you plan to have fun with friends and family. Avoid thinking about impressing people. Avoid worrying about things going wrong. You cannot control everybody and everything no matter how hard you try. If something does go wrong, enjoy it and laugh your way through it. It may turn out to be the most fun and memorable moment after all.
Take advantage of my flexibility and make the service exactly what YOU want it to be. Together, we can take the worry out of your ceremony and put fun and meaning in its place.
Make sure that you record the wedding with photos and video. Video captures emotions and events that photography does not. Some can afford the big price tag of professional agencies, but you would be very pleased with my digital photography and video at a small fraction of the price. My combined officiating, video and photography works well for people because they can work with me on all three at once and reduce the stress of working with several people who have not been involved in the details of the service. My photo and video approach reduces stress and improves the meaning and feel of the service by eliminating the distractions of photographers and videographers during the service. Friends can videotape your wedding, but it is not likely to be like my two-camera edited video with photos on a DVD. Friends don't usually have the skills or experience to take your basic video and make something as beautiful and exciting as an edited and integreated photo/video DVD. It takes great equipment, expensive software, honed skills and years of experience. See more below about that. If help from friends is necessitated by your budget, celebrate good friends and go with them.
---
Helpful Tips List - I make these points at most rehearsals
Do you have the wedding license? Please present it to me now so that I can be sure that you are ready for a legal marriage to take place.

Do you have the final balance? Please present it to me now so that we can get that out of the way and enjoy the rehearsal and wedding without having to think about it again.

This is your wedding. If I suggest anything and you have a different idea, your idea wins. Interrupt me and tell me how you want it to be done and we will do it that way.

A good wedding kiss lasts approximately five seconds (shorter and people think you don't really like each other, longer and someone shouts 'Get a Room!')

Tilt your head to the right and your partner tilts to the right and you avoid a collision of noses or an awkward kiss.

Practice the kiss a few times before the wedding to be sure you both agree on how it will be done.

The rings almost never fit so loosely that your partner can push it on successfully. Therefore, help to slide your own ring on. It usually gets stuck at the knuckle. Helping with your own ring usually avoids an awkward moment at which the guests usually laugh.

Carry tissues in the flowers, a pocket (for the groom) or have the maid of honor hold them just in case - many couples who really needed them did not have them - be prepared just in case.

Look at each other. Many couples feel that they should look at the officiant when he/she is speaking. This is not necessary. Avoid looking too much at the officiant. Look lovingly into each other's eyes or down at your hands or smile at your family and friends. An occasional look or smile at the officiant is fine, of course. Look at each other as you hear the words and let them sink in, nod in agreement, smile or laugh as appropriate. I say this because some couples have looked at me during the whole ceremony and it struck the guests as somewhat odd.

When you arrive at the front at the beginning of the wedding, the bride holds her flowers and not the hands of the groom ... until she gives the flowers to the maid of honor when the time for exchanging vows has arrived. This is not a hard and fast rule. Bride, if you want to hold one hand of the groom and the flowers, do it. Otherwise, hand your flowers over to the maid of honor just before the vows and then hold both hands of the groom.

The kiss is usually the last thing in the ceremony (unless you want to be presented as husband and wife, Mr. and Mrs., groom and bride and last name, or 'I present to you a new family joined by love and blessed by God', etc.). Everyone claps after the kiss and the recessional music starts. Putting anything after this in the ceremony is usually anticlimactic and it interrupts the flow of the conclusion.

The mother of the bride is usually the last to be escorted in and the first to be escorted out. Traditionally, this is done because she is the guest of highest honor.

When a father walks the bride down the aisle, he usually stops a few feet short of the groom, hugs and/or kisses the bride on the cheek and hands her right hand to the groom with his left hand and shakes the right hand of the groom with his right hand. Then he sits down. The father of the bride walks on the bride's right side, the same side as the groom is standing up front.

Receiving lines are often optional if the wedding is at the same location as the reception. The simplest receiving line is the bride and groom with parents. The bride's mother and father are often first, then the groom, the bride, the groom's mother and father. This makes it easier for introductions of people on the other side of the new family. If there are stepparents or other complex family situations, develop an order that works for you and which is sensitive to those involved. Think ahead about who should sit where if there are stepparents, in order to avoid an awkward moment at the rehearsal or wedding. Make sure everyone knows where they will be sitting.

Be sure to notice the moment where you repeat the vows, so that you are not surprised by that. Sometimes the groom (since he is first) forgets to repeat the vows after the officiant or the vows for the ring and the guests laugh. Of course, laughter is fine, but some couples feel embarrassed by such moments and wish that they had been trained better. So, here is that training.

Be sure to wait for being prompted with the words, "If so, say 'I do'", before replying, "I do." Some tend to jump the gun and say "I do" after the first question and the guests laugh at the overly eager response.

Flex your knees occasionally to avoid feinting. Locking the knees (like standing rigidly 'at attention') for a long time shuts off the blood supply to the brain and causes feinting.

Bridesmaids and groomsmen should face the guests at a forty-five degree angle so that the guests can see them well. They should look over their shoulder a little to see the bride and groom. The bride and groom should stand at a thirty-degree angle to the guests so that guests and the photographer have a good view of them. This is my preference. Some officiants do it differently. If you have another idea, go for it.
Keep it simple. Relax, enjoy and feel the moment! Make it fun! Don't worry! Be Happy!
---
Some of My Goals of Officiating (Reassuring Details for the Couple)
Respond to email requests, agreement forms and phone calls as quickly as possible (asap).

Send a receipt for the deposit asap.

Return the formatted or corrected Ceremony Word file asap.

Arrive at the wedding an hour before the ceremony begins, or slightly before the agreed upon time - always be early and never late.

Thoroughly research the location, including road issues between here and there.

Print out maps and carry them with me in my car. Onstar directs my travel, so we can all count on my being there and not gettng lost.

Have my cell phone charged up and ready to receive calls at any time (especially on the day of the rehearsal or wedding so that I can call the couple, the location, or they can call me in case anything has changed or goes wrong - never does, just good to be prepared for traffic delays).

Personally connect with key family members or friends of the bride and groom.

Ask for the license at the rehearsal. If it was not brought to the rehearsal, that is ok. But it does run the risk of forgetting on the wedding day and it makes it just one more thing to think about instead of having fun (same goes for the final balance due to the officiant). Get this out of the way as soon as possible.

Fill out the license at the rehearsal or before the wedding, There is so much commotion afterward and so many other fun things to do. If a photo of the signing is desired, use the souvenir copies the day of the wedding to restage the photo of the signing.

When leaving for the wedding, bring the agreement form, notes for the wedding prepared during the meeting with the couple or rehearsal, the copy of the service, robe (if appropriate), other equipment requested.

Help the couple to enjoy the wedding and be relaxed with encouraging words, smiles and comforting tones. Smile a lot but don't be overly dramatic.

Memorize as much of the service as possible to make the presentation smooth. Keep a finger on the place in reading to maximize eye contact with the guests and couple.

Speak slowly and loud enough to be heard clearly.

Check appearance in a mirror just before the wedding starts.

If I am not expected/invited to be at the reception, congratulate the couple and the parents after the service, and discreetly depart.

Enjoy the day and help others to do so as well. Pay attention to details and think ahead. But relax as though this service will go as perfectly as almost every other one has.
Remember Your Wedding Day
with my Revolutionary
Integrated Photo and Video
('Cherish The Moment' Package - $900)
(plus sales tax)
Great Reasons YOU should consider this photo and video option
The best way to remember your wedding day is to have an artistically edited DVD video that includes the ceremony as well as the best photos of the events, the vows, the expressions on your faces. Also, have all your photos on CD so that you can view them AND have them printed at the lowest price. This is revolutionary because you cannot find anyone else who will combine your photos and video in this way at this price. It is revolutionary, because someday couples will accept nothing less and pay nothing more. This is a format that will change the world of wedding photography/videography, reducing prices dramatically and delivering so much more. Why pay more? Why get less?

You can easily give a copy or share a copy among friends and family who can see the best photos and the ceremony on their TV with a DVD Player.

Having your photos on the Internet in a private folder on Google will give access to those you invite to view them without the rest of the world seeing them. You will have smaller resolution portraits on my Google photo web site that others can download and view.

Having your best photos on your video provides a quality experience beyond what you could get, even with the best videography teams, who do not include your photos on their video.

Even if you COULD find someone (very unlikely) who would provide all that I provide, you would pay ten times as much. I became committed to providing this economy package when I saw how much couples were overpaying for photography and videography. Here is a typical photographer's presentation about pricing:


(Paraphrased) Prices range from $1000 to $10,000! Reprints will be $20 to $50 each. Expect to spend up to 30% of the wedding budget on photography.


It is not that photographers don't deserve to be paid for all the equipment, people and time that it takes for them to do the job the way that they have always done it. It is just that couples need a financial break when eveything else costs so much. By doing it all myself, I can keep the overhead costs low enough to give you a huge financial break.

Most photo and video production companies will take several weeks before they deliver your photos and video. I have an average delivery time of five days or less. I just can't wait to see how good it looks, to be creative and to let you see it all as quickly as possible. I do not sleep a lot from the time your wedding ends until I deliver your photos and video, because I am excited for me and you to see the final production.

'Cherish The Moment' Package - $900**
(Includes both the Digital Photography and
Digital Videography Packages Described Below)

(Plus Prints at $5** per page - **Minnesota Sales Tax will be added if your wedding is in MN)

This combined package takes 30 hours to produce, plus printing time if prints are ordered. I recommend the combination of both photography and videography, because it will provide me with many more good photos that can be included in your video. While photography provides great portraits, videography is great for capturing the tenderness between the bride and groom and many precious moments you would never see in the photos alone. You can choose the photo package separately, however, I do not provide the video package alone.

I have the advanced technical skills needed for producing your memorable keepsake - skills and experience in photography, photo processing software, video editing, computer graphics and web management. I have fine tuned my personal skills with people for setting up the shots (not a comedian's approach - just courteous and quick). I have creative skills in seeing the potential for artistic photos.

Most of my portrait photos are taken with a Panasonic Lumix DMC-GH2, pictured at the right. See a review Click Here. I also use an Olympus E-10.

Either camera is used with an external FL-40 Flash (for bouncing more light indirectly to reduce hard shadows) on a flash bracket (for eliminating red eye) with a light diffuser (to soften the lighting). See this flash setup pictured below at the left. It is the setup used by many of us professional photographers.

For backup photos and atmosphere shots, I also use an Olympus 5050 zoom with an external FL-20 Flash on a Flash Bracket or a PowerShot SX20 IS

Some have asked, "How can you do both - camera work and officiating?" During the service, my video cameras are stationary and running on their own. The best moments are restaged later for better quality photos and video, so it is actually much better than having video and photo people detracting from your service by standing in front of the guests to do their work. Therefore, it is not a problem that I am officiating and not running cameras during the service. You will have all the live action on video and excellent quality, cropped photos edited in with pans and zooms and designer edges and frames. This is better for the quality of photos and video as well as your ceremony - much better than photographers and videographers distracting everyone during the service!

Want to see just how awesome this video is? Come into my office to view the DVD of one of my recent wedding video productions. Look over my portfolio. I have never had a dissatisfied client. Most have thanked me profusely for the photos and video that I have produced. Click here to read some of those responses. I also have samples of a slide show on DVD set to music for those occasions when couples choose to have photography but not videography.

Photography Package - $550** (Videography package not required)

(Plus Prints at $5** per page - ** Minnesota Sales Tax will be added if your wedding is in MN)

Your photos on a Google photo web site for your family and friends to view and download. CLICK HERE to see a sample.

Three copies of your CD of all photos so that family and friends can view them on their computer and/or print them.

A slide show of your photos set to music. To view a low resolution sample CLICK HERE

When asked for a password, login as follows: user= help and password = me

When you see a list of files, right click on joekellywed62510.wmv
Choose 'Save As and download it to your computer. Then double click on the file on your hard drive.

FOR PRINTING, HERE ARE TWO OPTIONS TO CONSIDER

'PRINT YOUR OWN AND SAVE' OPTION - You can use the CD that I give to you to print photos on your photo-quality printer and paper at home or take the CD that I provide to you and print from the printer at Target, Walmart, Walgreen's, etc. .....(or download files from a website that I provide for you) ... To see a sample of printable photo files that I provide to you online, CLICK HERE login is user = help and password = me

'I WILL PRINT FOR YOU' OPTION - I will print photos that you order (after you view the CD) at sizes up to 8" x 10" for $5 per page. You tell me which photos you want (by numbers on the photos), how many and at what size. Include any special directions about changes in cropping, color, and contrast or let me decide what looks best. You can have multiple copies of a single photo printed on one page or several different views printed at smaller sizes. For example, you can request two 4" x 6" photos, or two 5" x 7" photos or 8 wallets ... and each of these configurations fits on one page (at the rate of $5 per page) ..... and/or ... I will print photos that you order specifically to be included in a wedding album and assemble the album for an additional $20 per page in the album. This price per page includes the cost of the printing of photos included in the album ....

Videography Package - $450** (Photo Package also required)

(** Minnesota Sales Tax will be added if your wedding is in MN)

Three DVD copies of your wedding and reception video (two cameras and edited). This video will have the best of your photos on it as well. This makes it a great keepsake and an amazing bargain! Photos and video of your reception included.




Up to 6 hours at your wedding location and reception is included ($50 an hour for additional time at your rehearsal dinner or reception) - no other costs for my supplies (photo printing costs are your responsibility).

Photos of the wedding party usually take place between 3 hours and one hour before the wedding (two hours of shooting). It may not take this long, but extra time is allowed to be sure everyone is ready and in place for their photos and to reduce the stress for all concerned. Additional photos of grandparents and those not able to be there that long (as well as bride and groom together if they do not want to see each other before the wedding) can take place after the wedding or at the reception (if you want me to shoot at the reception).

A $300 deposit secures the date and up to five hours of photo shooting time. Then, $300 is due at the rehearsal or when I arrive on the day of the wedding and $300 is due upon delivery (which usually happens within five days). Add the payment for additional services to your final payments due upon delivery. (Add Minnesota Sales Tax on all photography services and photos.)

CLICK HERE to view and/or fill out the SaintSavers Wedding Photography Services Agreement Form.